Welcome
Welcome to my little corner of the web. My name is Christian - 45 years old - and on these pages I will tell you a bit of who I am.
I was born in the most beautiful city in Norway, where I spent my childhood. During my teens, I was a hopeless computer nerd. I spent all my time programming my Commodore 64, and later my Commodore Amiga.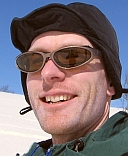 I began studying for Civil Engineer in Electronics in 1990. After two years, I decided I had to nurture other aspects about myself than purely intellectual ones; and went to a Folkhighschool. That year truly changed my life. I engaged actively in many interesting activities, and we made the fantastic Norwegian mountains so many great visits!
After the Folkhighschool I was not ready to pursue my technical studies; so I decided to try medical school. During four years I continued to learn about myself and other people -- until I realized what I wanted to do.
So here I am; back with computers and technology. My degree in Civil Engineering (Computer Science) was completed in 2000.